STUDIO
Noumena (noo'-mi-nah) pl. noun

The "thing-in-itself" as opposed to phenomenon, the thing that appears to us. Noumena are the basic realities behind all sensory experience.
(<Gr, noein, to perceive by thought <nous, mind)
Our roots go back to the pioneering days of computer graphics, opening the doors to our illustration studio in 1986 with the acquisition of an Apple Mac II running Adobe Illustrator 1.1 and then growing up with the ensuing CGI revolution. It's a different game today and a lot has happened in the last 20 years.
Today our focus is on high-level 3D work for advertising and interactive. The current generation of software and hardware blurs the line between CG imagery and reality. Simply stated, our job is to use the expertise, experience, and artistry we've gained over the years to bring your ideas and vision to life.
While we are first and foremost an art studio, the technical nature of the tools we use make a myriad of interconnected graphic solutions possible. We can help you leverage the models and imagery we produce to your greatest possible advantage, bringing efficiency, cost-effectiveness, quality and consistency to any project you have.
Photo-realistic renderings. Special effects. Beauty shots. Animations. Interactive Flash demos. CAD to photo. Cutaways. Product libraries. Digital prototyping. Retouching.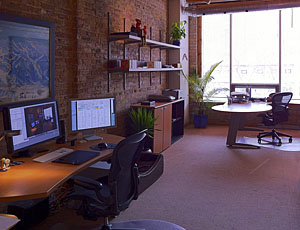 CLIENTS
Abelson Taylor
Adaptec
American Express
Campbell Soup Company
Coors
Cramer Krasselt
Digitas
Euro RSCG 4D
Fisher Price
Fidelity Investments
Fuji Medical Systems
GE Healthcare
Goodby Silverstein
GSDM
Helio
Hewlett Packard
IBM
InFocus
Integer
Intel
Iomega
Landor
Landsend
Marquardt Roche
Microsoft
Momentum
Nintendo
Ogilvy Mather
Phinney Bischoff
Franklin Covey
Samsung
Time
US Air Force
Zaaz
3Com
Publications
ComVerge
EDN
IEEE Internet Computing
IEEE Spectrum
Macworld
Mondo 2000
Movieline
People
Windows NT
Organizations
Salt Lake City 2002 Winter Olympics
American Chemical Society